by Mark B. Hatter
Captain Earl Waters stripped off 60 feet of line from the reel and handed me the thick, one-piece composite rod. "Here," he said curtly. "Cast."
I unfurled the length of the line after a couple of back casts, shooting the fly straight to nowhere in particular.
"Hand the rod to your buddy," he said, directing Charlie Madden to do the same drill.
Waters had stopped his pristine, teal-green Silver King skiff, with a coral-colored cap, about a half-mile out in the Gulf, just outside of the Homosassa River channel. We were apparently being interviewed realtime for a skills check. 
Madden made his cast. Seemingly satisfied with the results, Waters fired up the outboard and zoomed south toward the flotilla of boats spread across the expanse of shallows outside of Chassahowitzka Channel.
It was May 15, 1993. Madden and I were, at last, tarpon fishing the equivalent of golf's Augusta National. We were rubes, with about a year of saltwater fly fishing under our belts, and had thin wallets with just enough credit between us to split two guided days at Homosassa and two nights at the storied Riverside Inn.
Booking it had not been easy; we couldn't find a guide who'd take us. Without a history and a bankroll to fund at least a week or more on the water, Homosassa guides were not particularly interested in taking on new clients, especially neophytes. 
We reached out to David Olsen, former manager of the now-defunct Fly Fisherman in Orlando, Florida, for help. A few days later, Olsen called back: "If you guys can fish May 15 and 16, I have a guide who'll take you. Name's Earl Waters. I vouched for you guys—told Earl you could cast and see fish."   
Thus, the on-the-water interview, which had really begun at the Homosassa launch ramp.
Our initial introduction at the ramp wasn't much more than a head nod of acknowledgement that we were Waters' clients. After readying his skiff, he examined the four-piece graphite rod and Islander reel that Madden and I planned to share. 
"You can put that rod back in your car," Waters directed. 
Reading the perplexed look on my face, he answered my unspoken question. 
"That rod is too small for these fish."
I was bummed. The four-piece, 12-weight Loomis IMX, stamped "DEMO" just above the single cork handle, was my prized tarpon possession. I'd found it in a bin marked "half-price" in a sporting goods store in Denver on a recent business trip. That it was now being relegated to the hotel room, along with the dozen IGFA-leadered flies, neatly fixed in a new leader stretcher rigged specifically for this trip, was painful.
In retrospect, I fully appreciate the atmosphere of that morning. Waters expected much, considering his clients and friends included the likes of Al Pflueger and John Emory. Indeed, in Monte Burke's Lords of the Fly (an extraordinary, must-read compendium on the 50-year history of fly fishing for tarpon—specifically for record fish at Homosassa), the arcing intersection of legendary guides and anglers, chasing tarpon for the better part of half a century, explains it all. 
Over our two days, Waters became genuinely sociable, and generous with information on all manner of tarpon fishing, even though finding the tarpon proved elusive. Shots were few and far between, but Madden did manage one bite and landed a classically average Homosassa tarpon.
Despite the slow action, Homosassa was mesmerizing. It possessed a magnetic draw for Madden and me that could not—and would not—be ignored.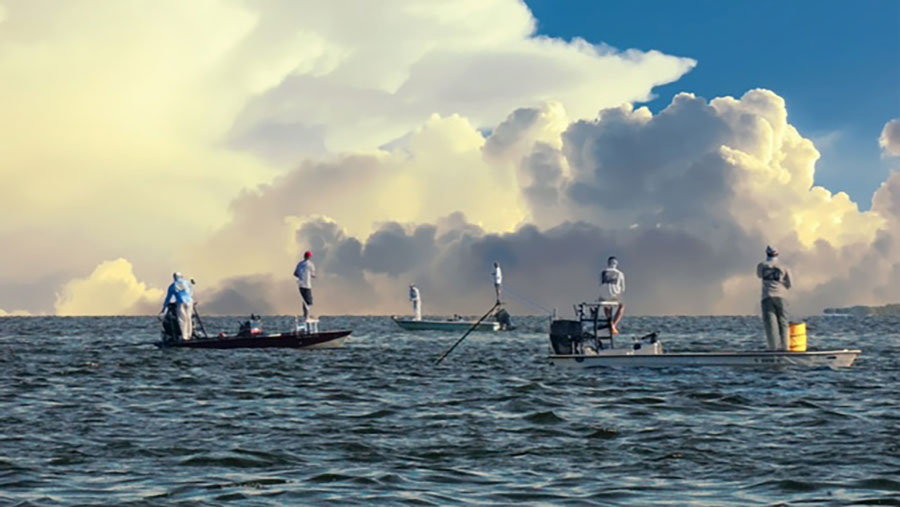 In the Beginning
Homosassa, situated on Florida's Gulf Coast about 70 miles north of Tampa, is legendary. Its legacy of tarpon fishing began about 1970. 
"When Lefty Kreh wrote about a trip he'd made to Homosassa in The Tampa Tribune, fishing with 'the MirrOlure guys,' Harold LaMaster and Kirk Smith, the word got out," Captain Dan Malzone said in a recent interview. "LaMaster and Smith invited Kreh to fish with them as they chunked lures into the hole around Black Rock, which was stacked thick with big tarpon. I owned three sporting good stores at the time, so naturally, I'd heard about it.
"In 1972, Keys anglers Normand Duncan and Gary Marconi caught wind of Homosassa's giant tarpon that nobody fished and started fly fishing there. They invited me to fish with them in 1974.  In the mid 70s, we were the only guys on the water."
Subsequently, Malzone would fish Homosassa three days each week, Friday through Sunday, the only days his businesses would allow him, for the next several years.
In 1976, Florida Keys guide Steve Huff and angler Tom Evans, who would book Huff for 45 straight days, had had a rough spring, nasty weather keeping them dockside more often than not. One windy morning, with a low-pressure system settling on the Keys, they had breakfast with Duncan at a local diner. He suggested they drive up and fish Homosassa, where the weather might be better. "Where the hell is that?" asked Evans.
"We drove up to Homosassa," Huff said in a recent interview, "launched the skiff … and never saw a fish all that first day. So the next day we hired a plane from a local airport to fly over the area to look for fish. And we found them … tarpon were everywhere." 
Huff and Evans hit the water soon after they landed. "Tom hooked up on a big fish," Huff recalled.  "He immediately became smitten with the big fish at Homosassa and wanted to come back."
The following year, Huff and Evans spent three consecutive weeks fishing Homosassa. The flats were still mostly absent other anglers and skiffs, but record chaser Billy Pate had gotten word of Homosassa's giant tarpon. Like Evans, Pate had the financial wherewithal to pursue big fish for weeks at a time, and he spent the entire tarpon season chasing records at Homosassa.
"On Memorial Day 1977, Pate and his guide (Hal Chittum) were the only ones on the water besides Tom and me," Huff said. "About three in the afternoon, fish began pouring in from the west by the thousands. Tom caught seven tarpon that afternoon, all over 150 pounds. His seventh fish was 177 pounds."
Continue reading this and the hundreds of other impeccable features in the pages of Tail Fly Fishing Magazine, the only magazine dedicated to fly fishing in saltwater.